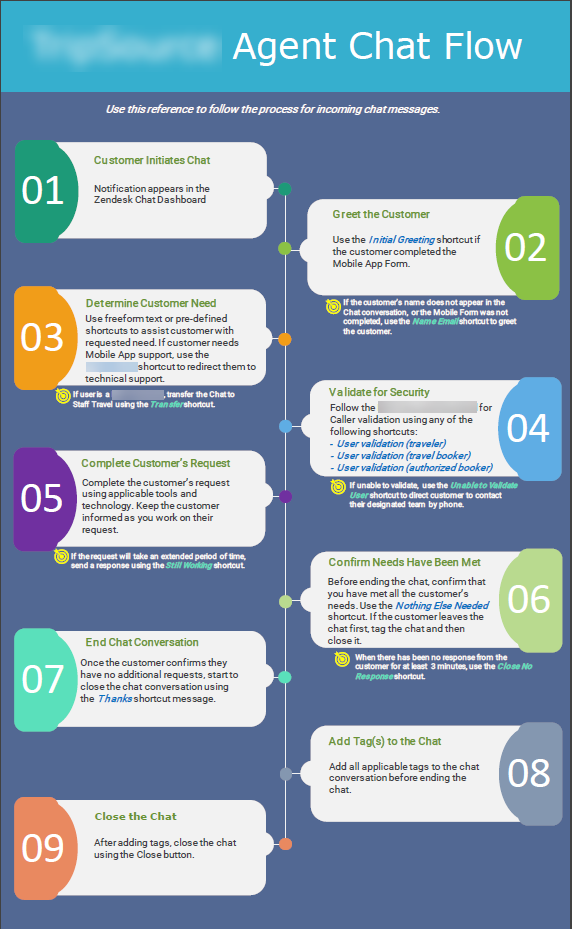 For this project, I designed and developed an entire course curriculum (Facilitator Guide, PowerPoint Presentation, Recorded Simulations, Quick Reference Guide, Intranet pages) for a Virtual Instructor-Led training on the implementation of a Chat tool for contact center agents. 
Responsibilities:
Instructional Design, Curriculum Development, Facilitate Train-the-Trainer Sessions
Target Audience:
Contact Center agents
Client:
Private Corporate Travel Management company
Tools Used:

 PowerPoint, Word, Illustrator, Visio, Camtasia, SnagIt
The client, a corporate travel management company, needed contact center agents to be trained on using a new Chat tool for communicating with clients. I was tasked with designing and developing the curriculum for the Trainers to deliver the Virtual Instructor-led WebEx training.
To speed up the delivery of this training, I was give a user login that allowed me to be logged in and navigate the tool as an agent would be while using it. By doing this, I was able to capture screen shots and record the process as it would be for the agents. Ultimately, the recordings were used as additional support/resources for reference and to help train new employees (if a class was not offered at time of onboarding the new employee).
I delivered the training via Train-the-Trainer sessions to bring the trainers up to speed. In addition, the company's intranet was updated to include all the processes and recorded
simulations
. I also created this Quick Reference Guide that could be downloaded from the company's intranet.